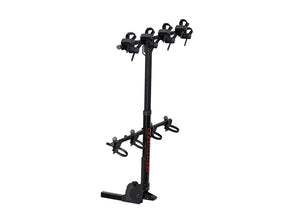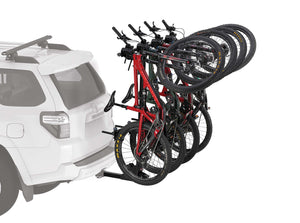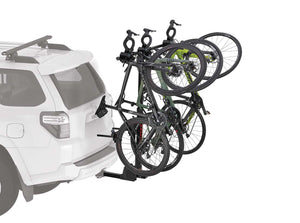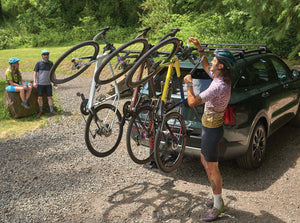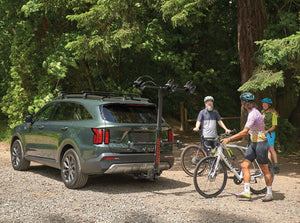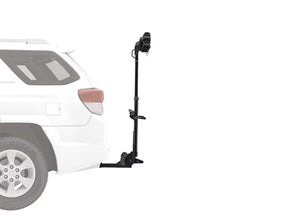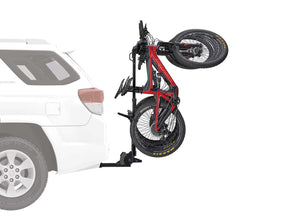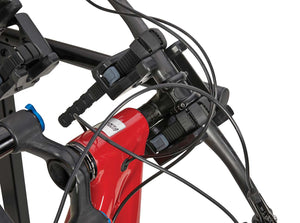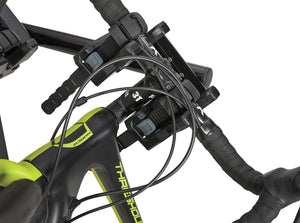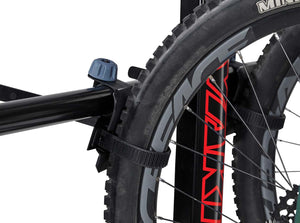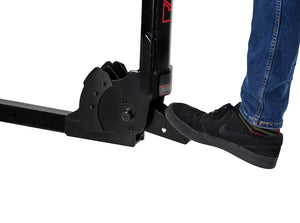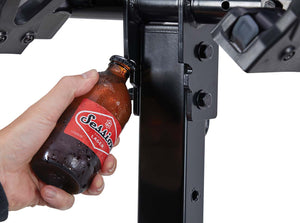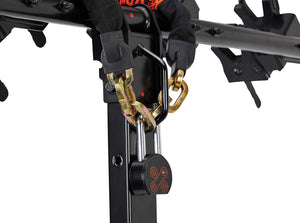 Product Details
Installation
Accessories
Spare Parts
HangTight 4
Product Details
Transports bikes
Securely supports most road, mountain, kids, and cruiser bikes by the handlebar
Fully padded cradles protect your handlebars, including carbon bars
Rotating rear wheel cup fits a wide range of wheelbases up to 50"
Accommodates bikes up to 37.5 lbs. each
Holds 20"-29" tires up to 5" wide
Add your own bike lock to the integrated lock loop for greater bike security
Foot-operated tilt mechanism makes it easy to access the rear of the vehicle.
Dual cradle retention stabilizes and protects bikes from one another.
HitchLock included
Built-in bottle opener—cheers!
Fits 2" hitch receivers only

Compatible with the Yakima BackSwing and StraightShot (HangTight 4 only)

May require a minimum stem length of 40mm with a 10mm spacer, depending on frame and handlebar geometry (standard cradle only)

Not compatible with aero handlebars, clip-on aero bars, or handlebars larger than 35mm in diameter
Transport dual-crown fork bikes with the HangTight DH Cradle accessories (Sold Separately)
Product Specs
Product Features Video
HangTight 4
Installation Video
Add Accessories to Your Rack
Don't Worry, We Have A Spare
AWESOME
On first use, this rack is awesome! I have the four bike version and it easily loaded 4 bikes (one full suspension MTB, one fat bike, one 24"kids and one 20"kids). The bikes can hang by the handlebars before strapping them in, which makes it really easy. The best part is that it doesn't need any adapters whatsoever for any bikes. It's heavy, but still lighter than the other 4-bike hanging systems on the market (1-up and Velocrax) and I had no problem at all moving in and out of the hitch.
If I can come up with one con, it is that you can't tilt it down with bikes loaded (it's too heavy). Might be able with just one or two loaded, but haven't tried it yet. It would be VERY easy for Yakima to add a strut to this for a lift assist like they have on the Velocirax version (HOPE YOU'RE LISTENING YAKIMA). I still chose this over the Velocirax because this doesn't require an adapter for the fat bike.
Awesome overall!
4 Bike - Or Maybe 3
Bought this yesterday to be able to transport our road and mtn bikes depending on the day's activities. After purchase/install/build I find that it does not actually carry four road bikes as well as I would have wanted. I see now on the pinkbike review that this rack was initially marketed as a 4 bike rack for straight handles (mtn bikes) or a 3 bike rack for drop handles (road bikes). However, it does not appear to say this anywhere on this site any longer???
The shifter/brake on the road bikes wedge against the bottom of the neighbouring mount for the next bike. so you can set it up for 3 bikes instead of 4 but would have to wrench the middle mounts each time you swap back and forth.
I'm not sure why Yakima fails to mention this and fee like a bit of a sucker for not knowing/being told before purchase. 4 mountain bikes set up welll on it and it does partially 'solve' the dilemma of getting a rack for both types of bikes.
It seems well built and looks good. The limited plastic parts seem easy to replace from Yakima and apparently come with a lifetime warranty. 3 stars because it's good for mtn bikes...or 3 road bikes.